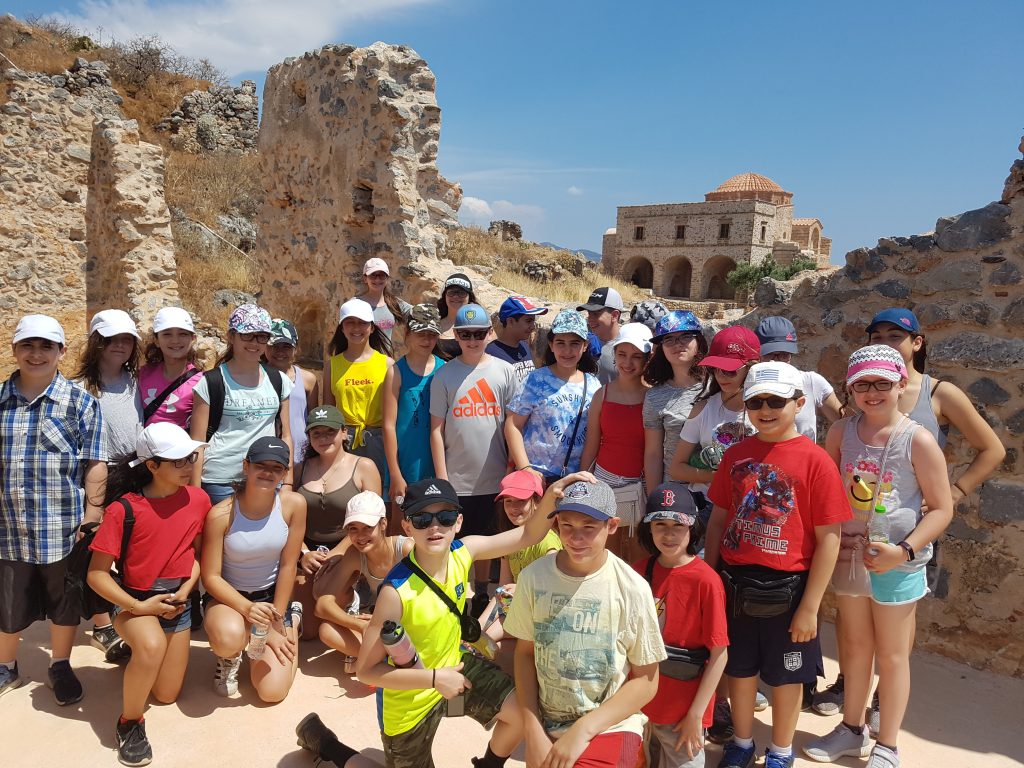 A group of graduates from the Socrates-Demosthenes School of the Hellenic Community of Greater Montreal participated in the annual educational trip to Greece for the sixth year in a row. From June 17 to 25, they experienced unique moments, explored the land of their ancestors and enjoyed the unique beauty of Greece. Below you will find pictures of our students' extraordinary educational experience and magical memories that will last a lifetime.
All of this started, of course, with a great start.
The first leg of the trip was Monemvasia, where dedicated tour guides took our graduates to visit many of the historic sites in the area. But, first of all, we take strength with a first swim in the sea so blue and a delicious meal afterwards.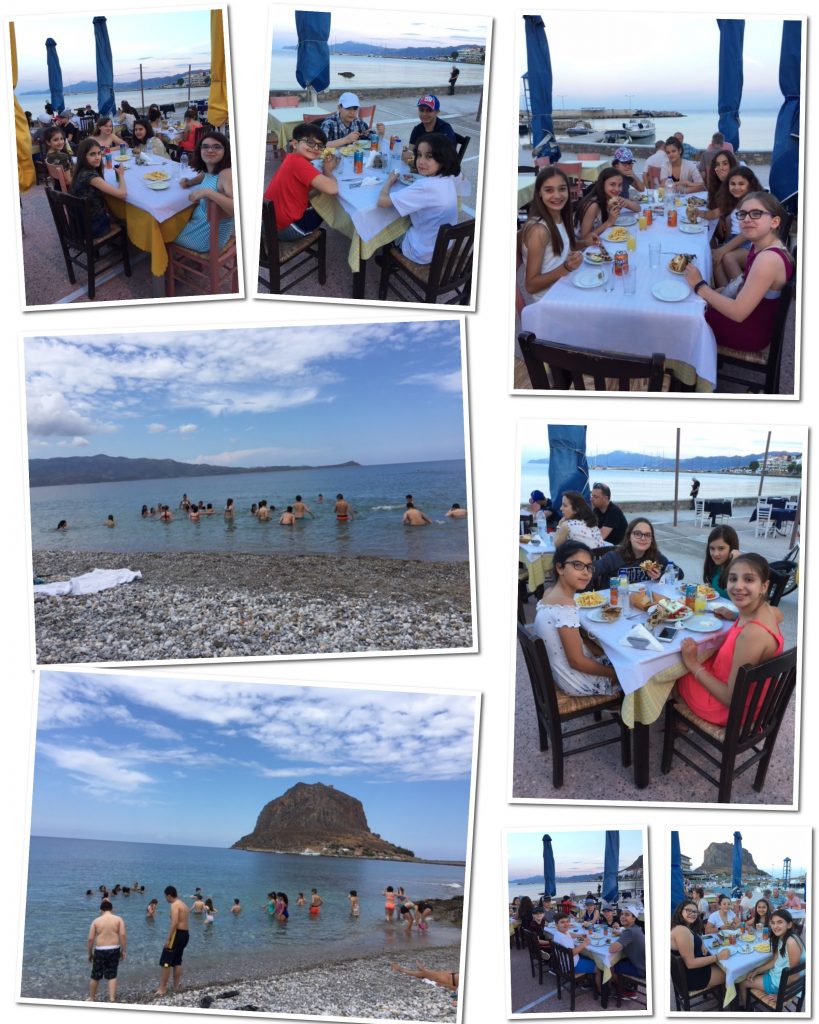 Our young tourists were fascinated by the old walls and their extraordinary past, which they later expressed artistically.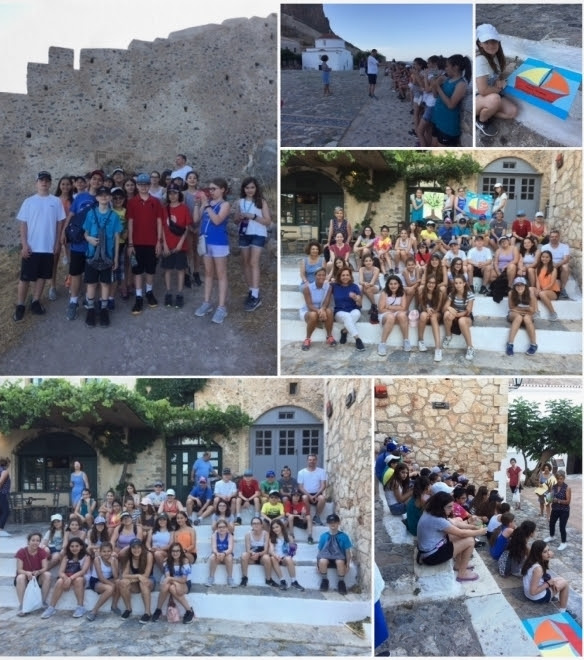 The traditional photo in front of the isthmus is unavoidable.
Our travelers have also become sailors, and even captains, for a day.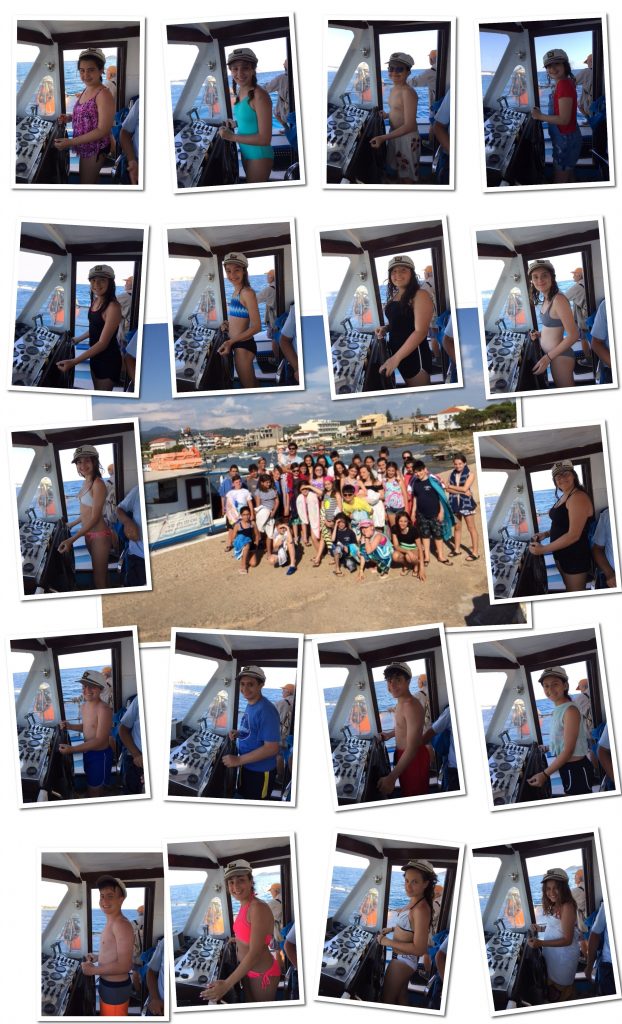 Their cruise took them to a private island where they could have a blast in the crystal clear water of a bay.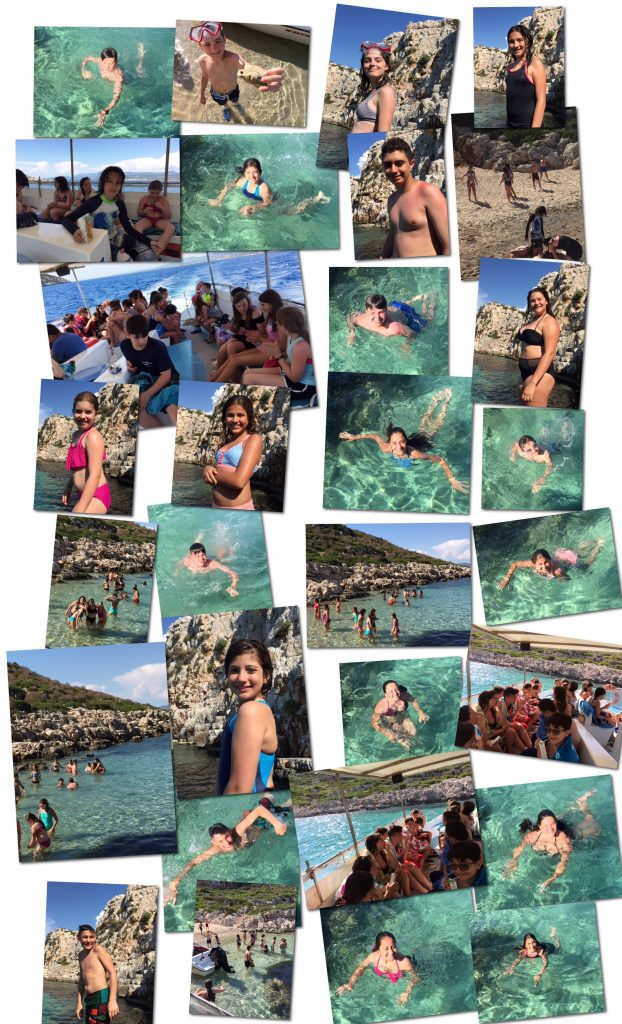 There have also been hot days in Mycenae where archaeological visits …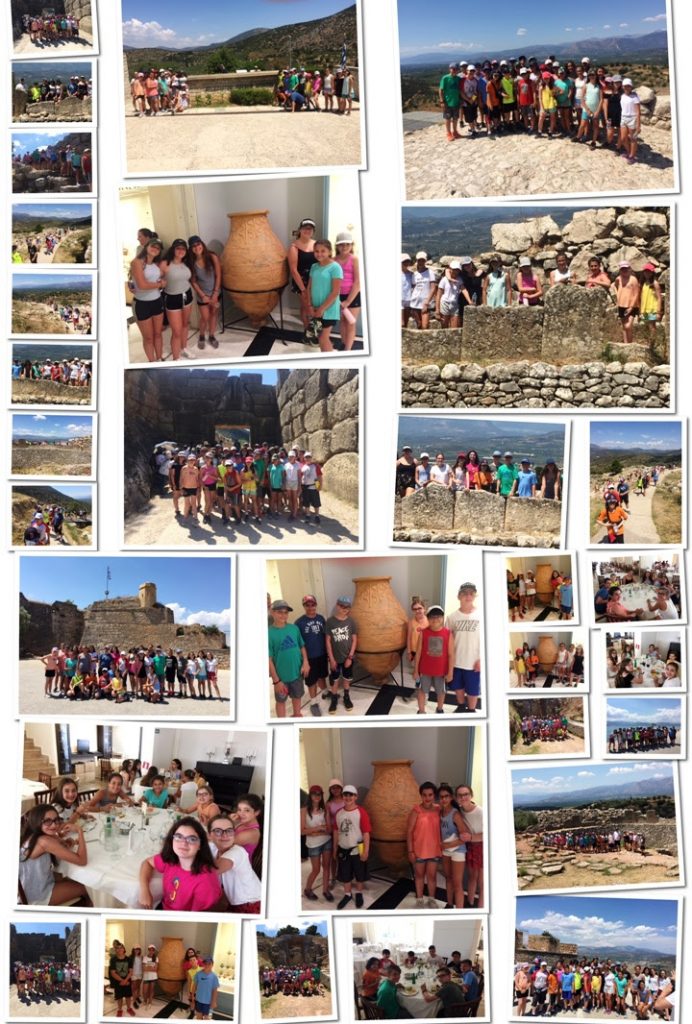 … were invariably interspersed with refreshing beach moments.
Our travelers spent two days on the archaeological site of Olympia, where they were impressed by the Olympic spirit by participating among other things in energetic races.
And they were all entitled to the crown of laur Our travelers spent two days on the archaeological site of Olympia, where they were impressed by the Olympic spirit by taking part in energetic races.iers.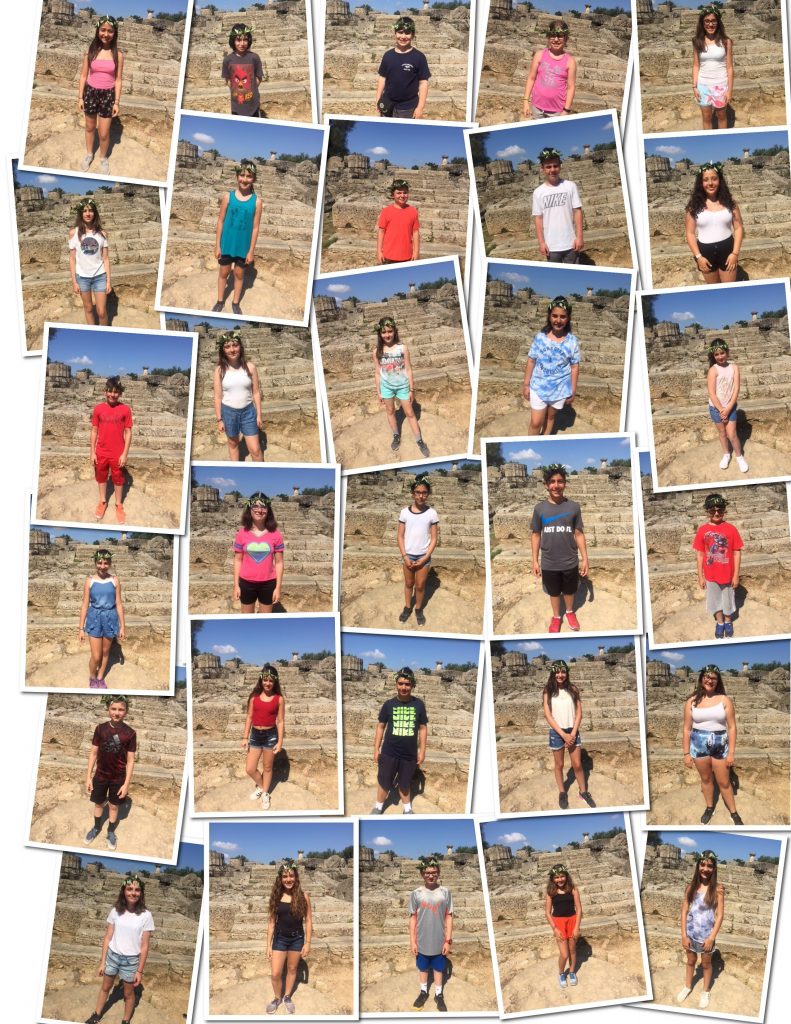 They have, of course, visited the site of the city behind the famous Games, and its interesting museum.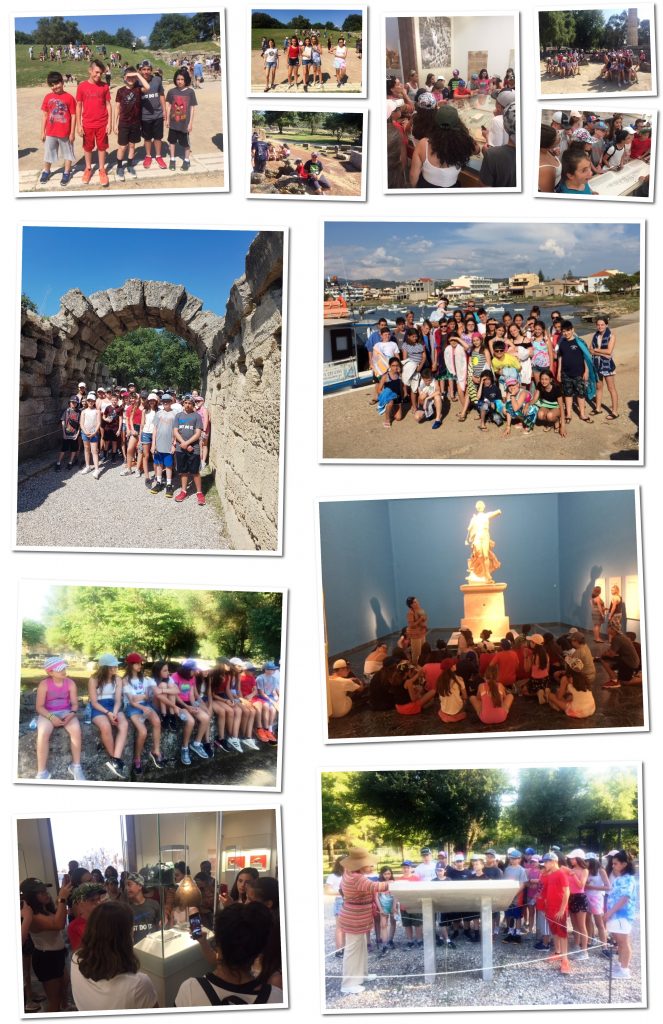 All these adventures could only end at the hotel pool.
The last part of their trip took them to a hotel in Glyfada, near the beach. Students and teachers, accompanied by a Greek guide, have made various educational excursions:
They visited the cave of Kastania, dating from the Jurassic era.
They alternately tested the incredible acoustics of the theater of Epidaurus.

They obviously visited Athens and its phenomenal national archaeological museum.
Finally, with a fascinating guide, they paid tribute to the Acropolis, where it all began.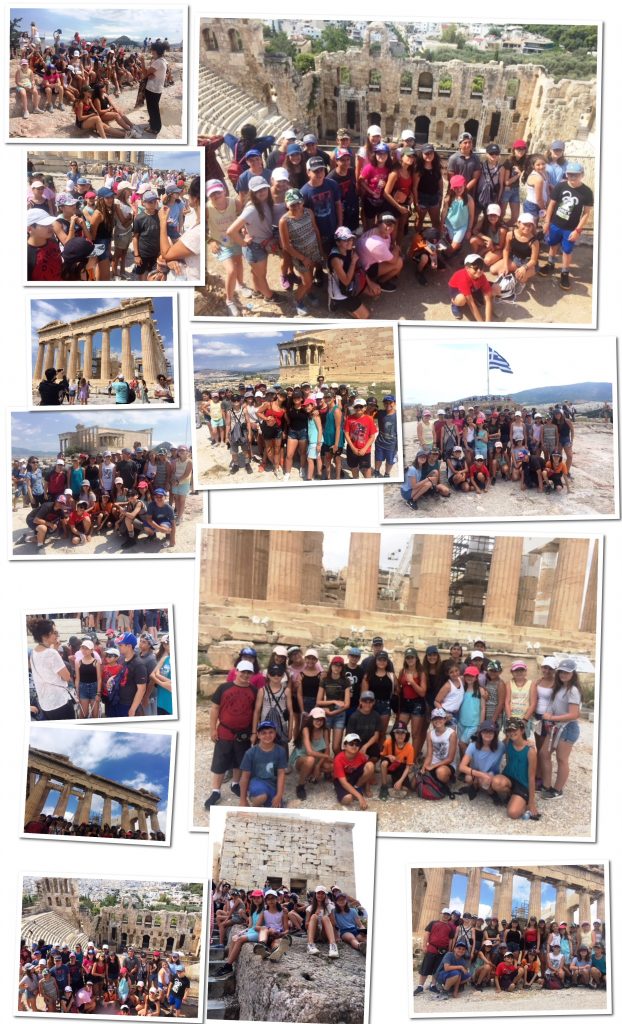 During the trip, everyone happily celebrated the birthday of Elysia, Lambros and Jessica.
"I am extremely pleased with the success of the trip," said Chris Adamopoulos, General Manager of the Socrates-Demosthenes School. "The kids came back from their trip really excited and with the unique experience of discovering their roots, they were able to apply what they learned at our school. This trip was a precious life lesson for them. I wish them every success in life. "

We would like to thank Hotel Pramataris in Monemvasia, Yannis Terizakis of Proti Cruises in Marathoupoli and Mayor Panayiotis Katsivelas for speaking and giving a gift to each child. Also, Captain Yanni, who let every child drive the boat.
We also thank the wonderful and very accommodating people of the Olympic Village Hotel in Olympia. They even bought the birthday cake from one of our students.
Impossible to omit Vanessa Riverin, Voyages Objectif Terre who organized this journey with expertise and kindness.
None of this would have worked so well without the tenacious work of Maria Roussis, the general director, who coordinated almost miraculously all the logistics and the infinite variety of challenges that ensued.
Finally, we would like to thank our dedicated and caring teachers: Nelli Vlahandreas, Lison Thibault and Christos Filandrianos for their exceptional presence with students throughout the trip.
See you next year!
The Socrates-Demosthenes School
Parents have written a lovely letter to the Director General and have given us permission to publish it here:
Dear Mr. Chris,
My husband and I want to thank you from the bottom of our hearts for providing our daughter Georgia with the amazing opportunity of travelling to Greece for her graduation trip. It truly was the most perfect way to end her elementary school chapter at Socrates Demonsthenie. I don't think that you can put a price on it.  As soon as she reunited with my mother in Greece, she called us to thank us for this trip and told us about what a great time she had. Although she is only 12 years old, we sent her off to Greece knowing she was in the best hands. We are forever grateful to you, Mr. Chris, Madame Lison and Madame Nellie for keeping her and her classmates safe at all times and for making this trip one that she will always remember. I will certainly miss the bing on my phone in seeing pictures of what they saw today.
Wishing you an amazing summer!
Denise and Tim Acheson