As part of its annual conferences, the Montreal Hellenic Women's Society will hold a seminar open to the general public on February 18, 2018 entitled "Being Parents in the 21st Century". With last year's conference having a great success for osteoporosis, the Society decided to address this year's young parents by addressing topics related to young children and adolescents.
An increasing number of children are suffering from behavioral disorders, anxiety and depression. Children and parents must navigate, often without any guide, with the omnipresence of social networks, self-image, school pressure, the influence of friends, etc. In this context, parents are invited to come and listen to experts in pediatric development and psychology, address topics related to behavioral disorders of young children, how to form a healthy and reassuring link from birth to adolescence with our children, how to strengthen self-confidence and recognize anxiety, depression, and substance abuse disorders. These experts will take stock of the importance of knowing when to consult a health professional and who to contact in our health system, which is often difficult to access.
The program will begin with 20-minute lectures by our guests, Dr. Lila Amirali, Head of the Department of Psychiatry at the McGill University Health Center, Dr. Stacey Ageranioti Bélanger, Assistant Clinical Professor in the Department of Pediatrics at CHU Sainte-Justine and two clinical psychologists with extensive experience, Dr. Mary Tsonis and Dr. Theodora Katerelos. The lectures will be followed by a panel discussion to answer questions from the audience.
The event will take place on February 18, at the Adrian-Maris Hellenic Community Center, from 2 pm to 4:30 pm.  Admission is free.
The Socrates-Demosthenes School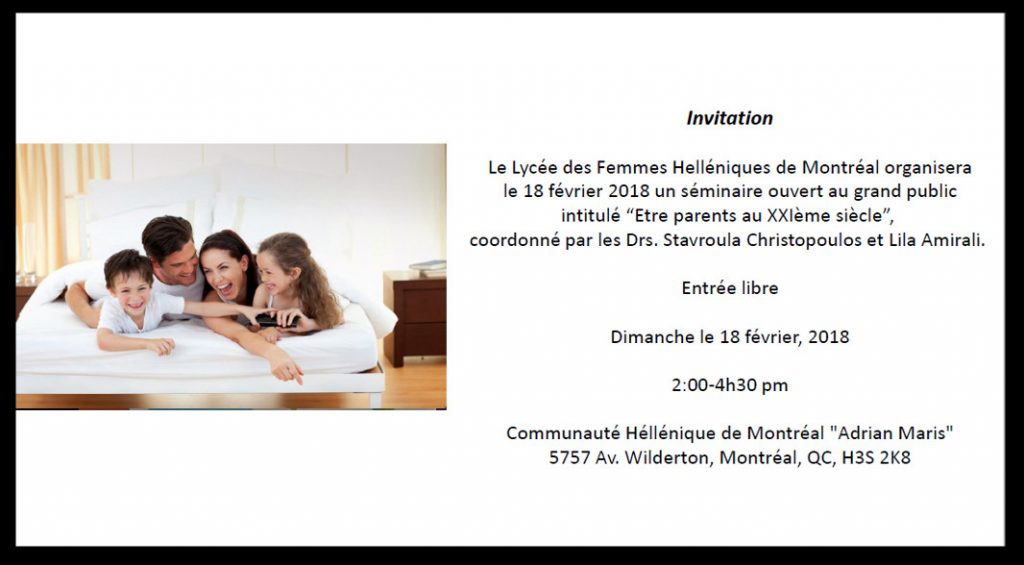 ---