On Thursday, June 16th, 2022, the graduation ceremony of the École Socrates-Démosthène of the Hellenic Community of Greater Montreal (HCGM) took place at the Centre des Congrès Palace in Laval. The graduates concluded an important milestone in their young lives by receiving their diplomas during a moving ceremony that they will remember for a long time.
We would like to congratulate them all, and wish them the best of luck in secondary school, where we are certain that they will be excellent ambassadors for Socrates-Démosthène.
It was an emotional event, a celebration of the knowledge, efforts and achievements of École Socrates-Démosthène's 150 remarkable students and their dedicated teachers. Our proud students wearing their blue gowns walked the stage to receive their diplomas. More than 1000 people, parents, grandparents, friends and family, were there to support them and honor their success.
The event began with a prayer from Bishop Iakovos. Then the excellent master of ceremonies, Christos Filandrianos (director of Socrates III), presented in turn the secretary for education of the HCGM, Tassia Tsaousis, the director general, Chris Adamopoulos as well as the directors of the campuses: Georgia Tsakalis of Socrates II, Geneviève Cloutier and Diane Trudel of Socrates IV, Lison Thibault of Socrates V, Mary Kanellopoulos and Sophie Boucher of Demosthenes.
Then followed the reading of the compositions by Evangelia Polyhronopoulos of Socrates II in French and Elias Voutselas of Socrates III who did the same in Greek.
In addition to their diplomas, several of our remarkable students received awards for excellence in the various subjects covered during the school year. Click
here
to see the list of different prizes.
The honorary diploma of the Socrates-Demosthenes School, awarded annually to a person who has distinguished himself by the excellence of his work in the interest of our School, was presented this year by the Director General to Michalis Gavriilidis, Consul Outgoing General of Greece in Montreal.
Plaques and flowers of recognition were presented to the three wonderful people who are retiring after having collectively influenced generations of children at Socrates-Demosthenes School with passion and devotion: Eleni Dracopoulou, Frances Fotini Liontaris and Afrodite Batsakis.
The General Manager also made a speech which you can read it
here
.
HCGM President, Andy Crilis, gave a glowing speech to our community. We take this opportunity to express our gratitude to him for all the extraordinary efforts he has devoted to our School as President of the HCGM and as an individual.
Our students also sang, under the direction of Dimitris Ilias, our unparalleled choir director, a piece that could not be more appropriate for the occasion, "Le chant des adieux".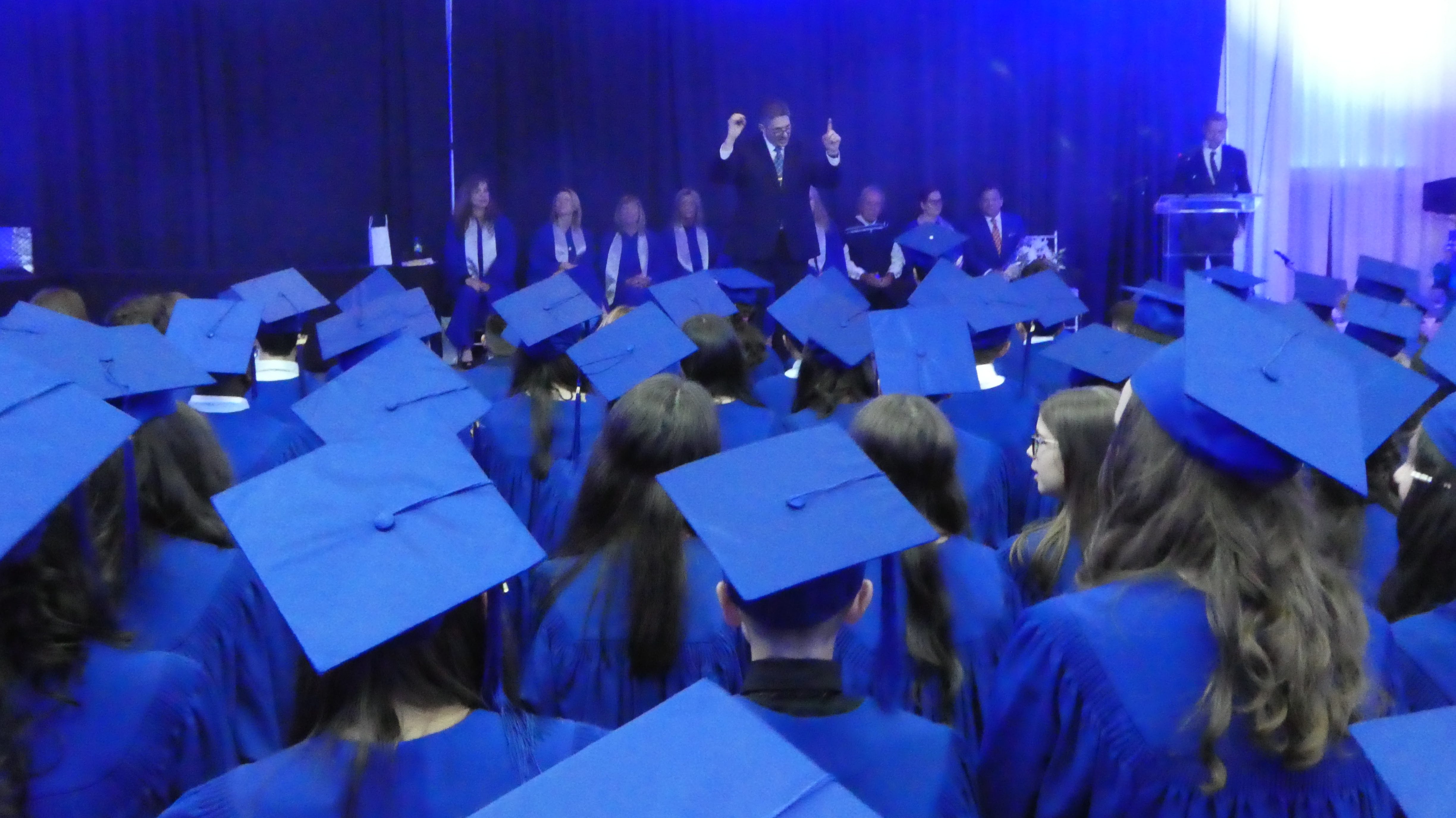 The students wowed the audience with perfectly executed Greek dances. We thank their dance teachers Denise Eleftheratos Acheson, Adriana Theophanous, Athena Sita, and Eleni Tourkohoriti for their excellent work with our students.
The evening continued late into the night, with lots of dancing where everyone was able to channel their excess energy.
We would like to thank everyone who participated directly or indirectly in this wonderful event: the students themselves, the school teams, the parent committees and our loyal sponsors.
Please click here to view the entire ceremony.
Congratulations to all and see you next year!