Athletics: The Club Areus of the Socrates-Démosthène School wins 5 podiums in a historic departure!

Lachine- On Sunday, January 27th, the Socrates-Démosthène School's Areus Athletics Club took part in the Lachine Games, a competition of the Quebec Athletics Federation (FQA). This was the very first competition in the history of our athletics team!
Three athletes from the club participated: Nasir Pierre, Anthony Papai and Liam Papai, all three students at the Socrates-Demosthenes School. Five events were on the program for the category of our athletes, Benjamin Male. The sprint, the long jump, the shot put, the 25 m hurdles and the high jump.
First of all, in the sprint event, Nasir Pierre won the silver medal after having obtained the 2nd best time in qualifying. Our 3 athletes finish in the top 10. Then, in the long jump, Nasir Pierre finishes 2nd while Liam Papai nears the podium with 4th place.
In the shot put, the club Areus really attracted all eyes. Nasir Pierre wins gold with a projection of 8m50. A personal best for him. Then, Anthony Papai wins the bronze with an 8m11 throw. Liam Papai finished with a throw of 7m 96. Finally, in the combined pentathlon of all events, Nasir Pierre deserves the silver medal.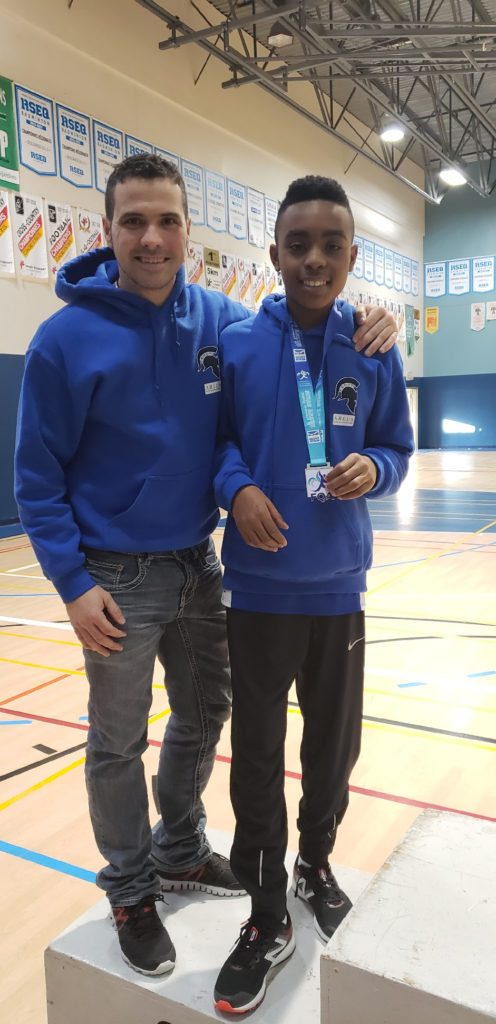 Our 3 athletes are in the top 4 positions!
It was a very successful day for our athletes and their coach, Éric Bouchard, who will be competing again on February 16th. The future looks promising!
You can see one of our athletes at work by  clicking on this link.
To see the results accurately, visit www.avs-sport.com. Click Lachine Games. Our athletes from the Areus club of the Socrates-Démosthène School are in the Benjamin-Masculine categories.

Congratulations!
The Socrates-Démosthène School