On Wednesday, October 6, Nick Tsatas, Dr. George Tsoukas, Vicechairman of the Fundraising Committee, and John Moukas, Honourary President of the I Stand For Our Schools Campaign, visited Campus II of Socrates-Démosthène.
Mr. Tsatas and his family recently made a donation to fund the purchase of Smart TVs currently being installed at all of our campuses.  The children demonstrated for the group how this next generation tech tool is providing them with a more efficient and interactive learning experience.
On behalf of the all grateful teachers and students of our school, the class thanked Mr. Tsatas and his family, and promised to continue to put their generous gift to very good use.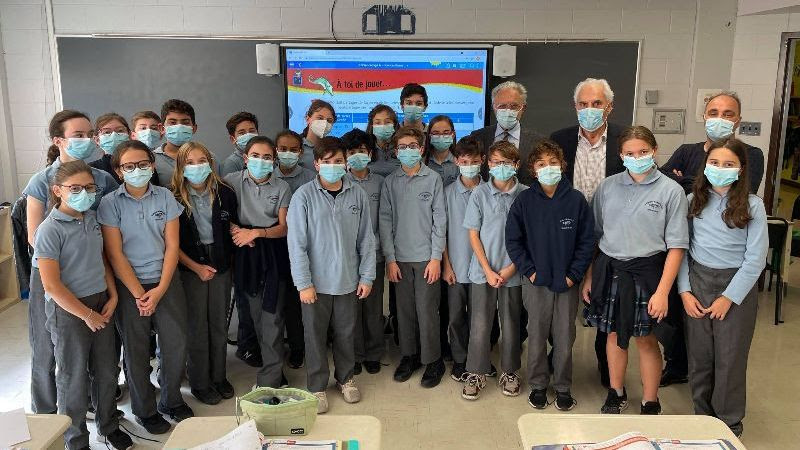 An Update from the Fundraising Committee
It has been 5 months since the Fundraising Committee of the HCGM launched the "I Stand For Our Schools" campaign, an ambitious initiative to raise much needed funds for Socrates-Démosthène as well as our Supplementary Education schools, St. Nicholas, Platon-Omiros and Aristotelis.
To date, the campaign has not only raised nearly $300,000, half of the fundraising objective, but has also funded several noteworthy projects, with more to come, including:
Instructional materials for our Supplementary Education schools
New laptops for all our campuses
New Smart TVs for all our campuses
Painting of classrooms
Replacement of asphalt in parking lot, schoolyard and landscaping
Fundraising Dinner on October 23
Our next fundraiser dedicated to our schools will be held on Saturday October 23rd, and will feature an extremely interesting lecture by well known Greek classical composer, conductor and television personality, and educational director, Eugenia Manolidou.
Ticket Info:
$250 minimum donation, for exquisite dinner and drinks, with a tax receipt for the eligible amount. Call to reserve: 514-738-2421 ext. 114 or online at https://istand4ourschools.org/october23 or https://hcgm.org/october23/
MUST WATCH!
Eugenia Manolidou talks to us about the event…