The students, parents, grandparents and staff of the Socrates III campus of the École Socrates-Démosthène celebrated the arrival of spring with their annual Protomagia party. The good weather and the festive spirit were part of it. Everything happened in the large schoolyard as planned. Our wonderful parent volunteers had a barbecue to feed students, parents, grandparents, teachers and any other guests who came by.
As tradition dictates, each class prepared a wreath which was then hung on the classroom door. All the students have painted a flowerpot and they will plant seeds in it.
Our DJ, Mr. Jason Scoufaras (parent volunteer) kept the atmosphere festive and he played a mixture of Greek music and pop music (that our students found trendy).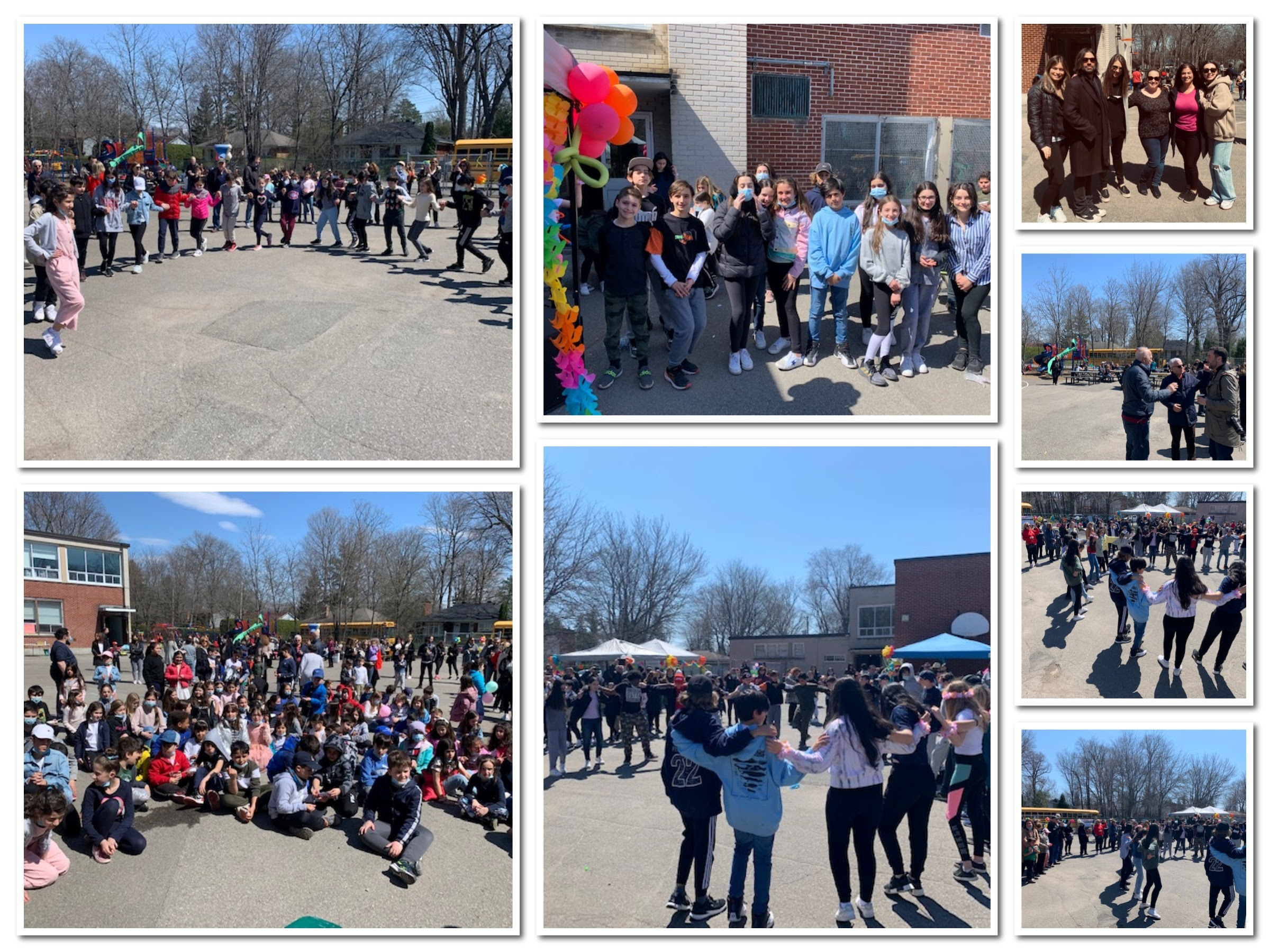 A big thank you to the parents (George and Billy) who came at 5:30 am to prepare the 'gouronopoula' (the pig on the spit) and to all the parents who ensured the continuous service of souvlaki, fries, salads, coffees…(see menu below) until 6 p.m.
Thank you also to the parents who prepared iced coffees, cappuccinos and freddo espressos!
What an unforgettable day!
Finally, we also had our big raffle draw and for the first time an egg 'tsougrisma' tournament. Congratulations to all the winners ! (price list below). In addition, the two egg tournament finalists won a $50 gift certificate (1st prize) and a $25 gift certificate (2nd prize).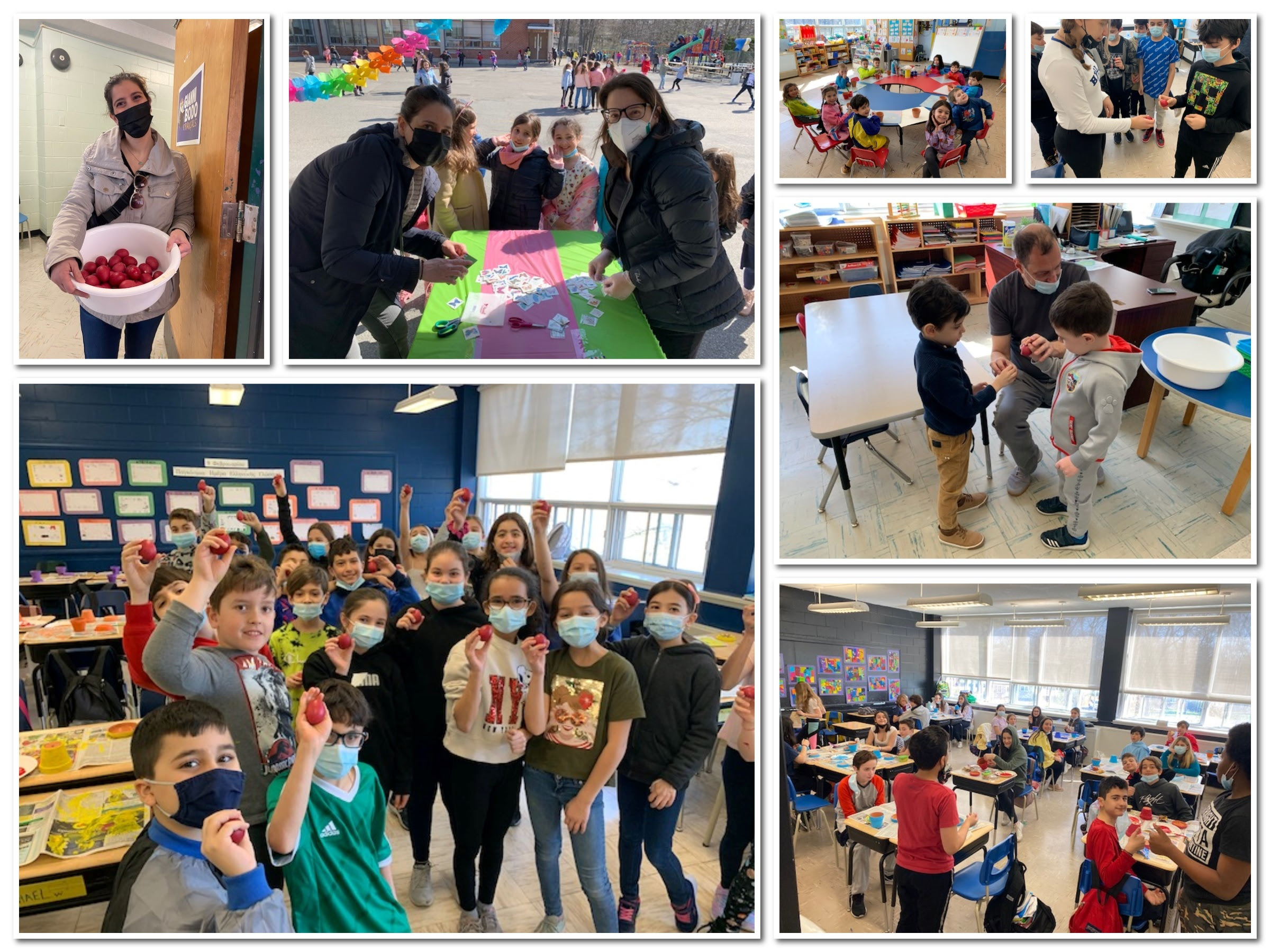 It really was a kali protomagia!
Menu:
Souvlaki (pork and chicken)
Loukaniko, Tiropites, spanakopites
Gourounopoula (pig on a spit) – for adults – limited quantity
Green salad, Greek salad, Feta cheese, vegan cheese
Fries, Rolls
Tzatziki
Ice cream with choice of toppings or a vegan dessert
Watermelon, figs, Yogurt with honey
Juice
Frappé coffee, freddo espresso (for adults only)
Liste de prix :
| | | | |
| --- | --- | --- | --- |
| 1 | 30% des frais de scolarité pour 1 enfant | HCGM | |
| 2 | 30% des frais de scolarité pour 1 enfant | HCGM | |
| 3 | Console Sony Playstation 5 (PS5) et manette | Fondation Diamando Berlemis | $1,300.00 |
| 4 | Apple 11″ iPad Pro (Wi-Fi, 128 GB) | EagleXport | $1,200.00 |
| 5 | Casque de réalite virtuelle Oculus Quest 2 (256GB) | Pâtisserie Afroditi | $650.00 |
| 6 | Apple iPad 10.2″ 64GB Wi-Fi (9th Generation) | Pelonis Notaires et conseillers juridiques | $500.00 |
| 7 | Nintendo Switch (OLED) | Pelonis Notaires et conseillers juridiques | $500.00 |
| 8 | Panier de produits de soin de peau (Valeur 350$) | Protoderma Dr. Kyritsis and Dr. Mitsos | $350.00 |
| 9 | (4) Billets CF Montréal | Famille Nikoletopoulos | $300.00 |
| 10 | Airpods 2e generation | Pâtisserie Afroditi | $250.00 |
| 11 | Beats Solo (noir) | Alpha Meat Packers | $250.00 |
| 12 | Beats Solo (rose) | Alpha Meat Packers | $250.00 |
| 13 | Certificat cadeau Gigis Pizza (100$) | | $100.00 |
| 14 | (1) mois Kefi Fit West Island (Valeur $100) | | $100.00 |
| 15 | Certificat cadeau Le White Rabbit Restaurant ($100) | | $100.00 |
| 16 | Certificat cadeau Le White Rabbit Restaurant ($100) | | $100.00 |
| 17 | Certificat cadeau Restaurant Elixor Laval (50$) | | $50.00 |
| 18 | Certificat cadeau Restaurant Elixor Laval (50$) | | $50.00 |
| 19 | Certificat cadeau Restaurant Arahova (50$) | | $50.00 |
| 20 | Certificat cadeau Restaurant Arahova (50$) | | $50.00 |
| 21 | Certificat cadeau Amazon.com (50$) | | $50.00 |
| 22 | Certificat cadeau Spa Station 5 (50$) | | $50.00 |
| 23 | Carte Cadeau Merenda 35$ | | $35.00 |
| 24 | Carte Cadeau Merenda 35$ | | $35.00 |
| 25 | Carte Cadeau Merenda 35$ | | $35.00 |
| 26 | Carte Cadeau Merenda 35$ | | $35.00 |
| 27 | Carte Cadeau Merenda 35$ | | $35.00 |