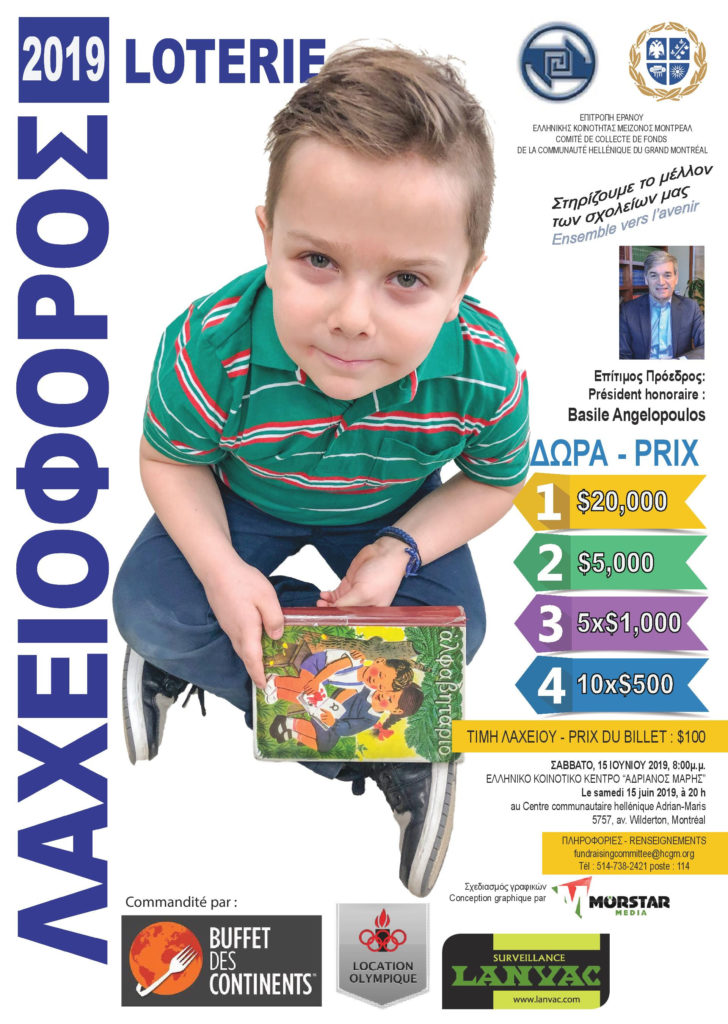 Dear Friends,

The schools of the Hellenic Community of Greater Montreal have always been the foundation of our culture, our heritage, and our language with future generations.

The HCGM Fundraising Committee is once again organizing the annual Lottery in support of our schools.

Your generosity in helping us reach our goal is invaluable.

We invite you to take part in the Lottery, making it possible for us to preserve and pass down to our children the language of our ancestors, history, culture, and our customs and traditions.

The draw will take place on June 15, 2019, and each dollar collected will go towards the needs of our schools.

The Honourary President for the Lottery 2019 is Me Basile Angelopoulos.
---
Purchase your ticket today and you may win prizes totaling $35,000!
There are only 2000 tickets in circulation ($100 each-group tickets available)
Prizes:

1 x $20,000
1 x $ 5,000
5 x $ 1,000
10 x $ 500

Buy your tickets now from:

The members of the Fundraising Committee
The HCGM Head Office, 5777 Wilderton, Mon.-Fri., 9:00-17:00
or by calling (514) 738-2421, ext 114
The Schools and the Churches of the HCGM
By e-mailing us at: fundraisingcommittee@hcgm.org

With sincere thanks,

Stavros Tsinalis
Chairman
HCGM Fundraising Committee