On Thursday, November 21, the Deputy Foreign Minister of Greeks abroad, Antonis Diamataris, visited the Socrates II campus. He was accompanied by the Consul General of Greece, Michalis Gavrillis, President of the Hellenic Community of Greater Montreal, Andy Crillis, Secretary of Education, Voula Neofotistou, Secretary of Complementary Education and mother of a student at our School, Tassia Taoussis, and the Director General of the Socrates-Demosthenes School, Chris Adamopoulos.
This was the first official visit of Deputy Minister Diamataris to Montreal. He received, as he so rightly said, an exceptional welcome: he was very sincerely touched.
The campus director, Georgia Tsakalis, proudly served as a guide for the occasion. The visit began in the kindergarten class where students recited poems by Yiannis Ritsos, talked about Athens and the Parthenon, the famous Caryatids and the need to bring back the marbles from England.
After a brief tour of all classes and the computer lab where students were working with interactive software, the guests met with high school students and attended a brief science lab experiment with grade 5 students. Mr. Diamataris then went to a room called the "green lounge" before giving an official interview in the "press room".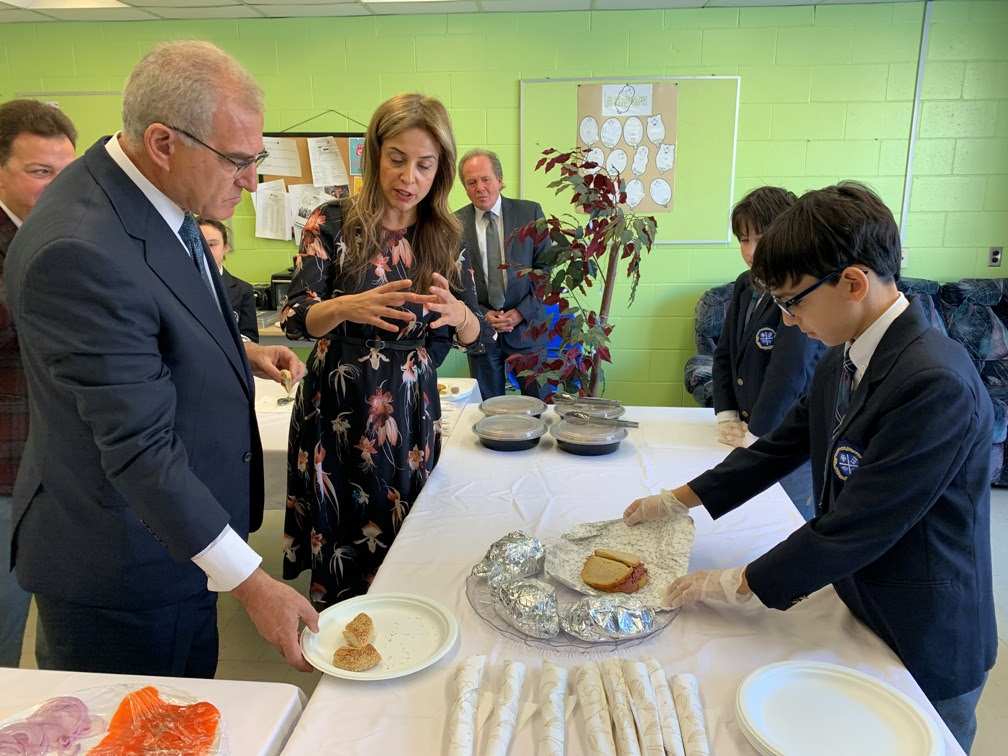 Students in grades 4 to 6 offered him the opportunity to sample a variety of typical Montreal and Quebec foods, such as smoked meat, meat pie, poutine, bagels and for dessert maple syrup!
Then, in the press room, the young grade 6 journalists from our radio station, Feta, asked him questions about his impressions of the HCGM and current news in Greece, including the vote of the Greeks abroad.
After the questions, the Deputy Minister went to the different stations: the grade 4 students had prepared a quick tour of the "Greek Museum", those of grade 6 offered a traditional dance of Limnos and the visit was closed by our choir under the direction of Dimitri Ilias singing a classical Greek tune.
Deputy Minister Diamataris was very moved and surprised when students and staff gave him a starter gift: maple syrup and Canadian winter gloves, in a recyclable bag, of course.
To see a video of our visitor's interview, feel free to click here
This meeting will remain, for a long time, in the memory of all the people who participated.
Socrates-Demosthenes School