Dear parents and friends,
There are still a few weeks of summer rest before your children return to school. We hope your summer is going well. Most importantly, we hope you and your families have stayed safe and healthy.
Over the past few days, the media have looked into the subject of the start of the school year, raising all possible questions. We are very aware that many of you are anxious during these uncertain times. Today we would like to reassure you as parents of the Socrates-Demosthenes School by confirming, that our team is seriously working on this file. In the next few days, you will receive the detailed plan for your campus allowing students and staff to return to school safely and with confidence.
Yesterday, during his press conference, the Minister of Education, Jean-François Roberge, gave details for the back-to-school scenarios. You can read the press release linked to this announcement here.
Here is a brief summary :
Opening schools in the fall is crucial for children and adolescents to continue to thrive. Everything must be done to prioritizing health while schooling.
According to the minister, now is the best time to update the plan to reopen the schools, to allow the network to adapt before the students arrive.
The update of the reopening plan is thus divided:
Wearing a face cover will be compulsory for all pupils of the 3rd cycle of elementary school (grades 5 and 6). Staff and adults should also wear face coverings. It should be worn in common areas, hallways and school transportation, but it is not mandatory when students are seated in their classroom.
For preschoolers, the measures announced in June on face coverings and personal protective equipment will still have to be respected by staff. There are no measures affecting young children.
The government will work with various organizations to ensure that all children from low-income households have access to a face covering.
Public health no longer requires the separation of class groups into subgroups. The "bubble" will be the class. Within the classroom, no physical distancing measure is required. However, the distancing measures and the wearing of a face covering must be respected between the pupils of different class groups.
Distance education will be available to students with a doctor's certificate proving a medical condition that may worsen with COVID-19.
The ministry will share information with parents on what to do if a case is detected at a school or a parent wants to report a problem. The government will also notify all parents in a school if a case is positive. An update to the self-care guide will be issued for parents to help them protect their families.
In the event of a class closure, distance learning will be implemented within 24 hours. The Minister qualifies this measure as a "quality-equity guarantee". With this guarantee, if a class were to be closed, each child will have a minimum of 15 hours of lessons per week and 2 hours per day will be allocated to interact with a teacher.
The objective is to make up for the delay of the last few months in teaching in a safe manner. For recess, wearing a mask is not mandatory, but measures will be in place to allow games between students of the same class group.
The Federation for the Education of Private Institutions (FEEP), of which our school is a part, issued a statement following the press conference. You can access it by clicking here.
You will find a lot of information and the answers to many of your questions on the https://www.quebec.ca/rentree site, including the following documents.
We know that some of our families face special circumstances and conditions during this pandemic. Our School and our Community have always done and will always do their best to welcome, within the limits of our abilities, our students and their parents.
We would like to remind you that all students and their families who have traveled outside of Canada during the summer are required to self-quarantine for 14 days upon their return.
Rest assured, dear parents, that we will make every effort to manage risk in the best way at all times, as we continue to provide your children with an education like no other.
Enjoy the next few weeks and we look forward to seeing you again soon!
The Director General,
Chris Adamopoulos
---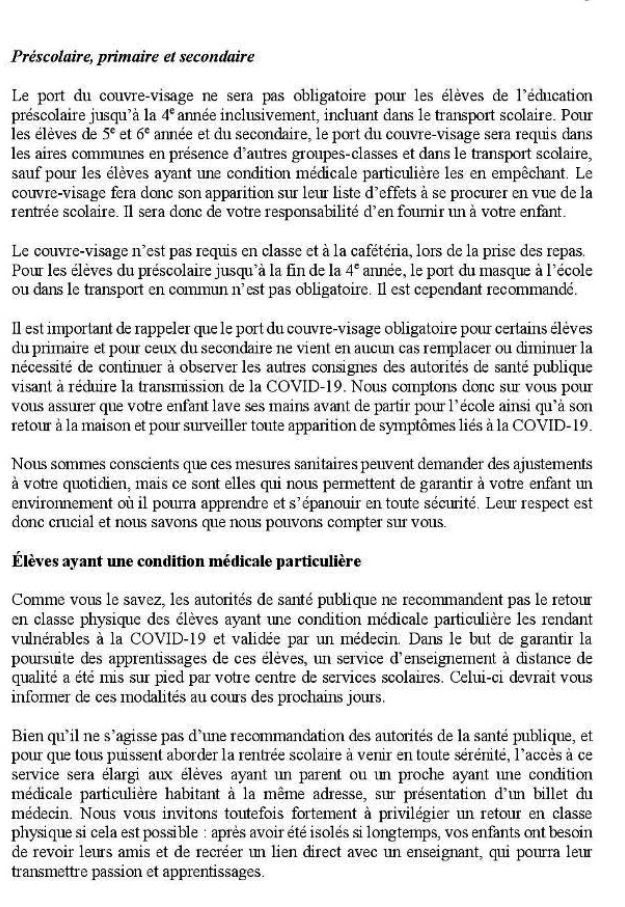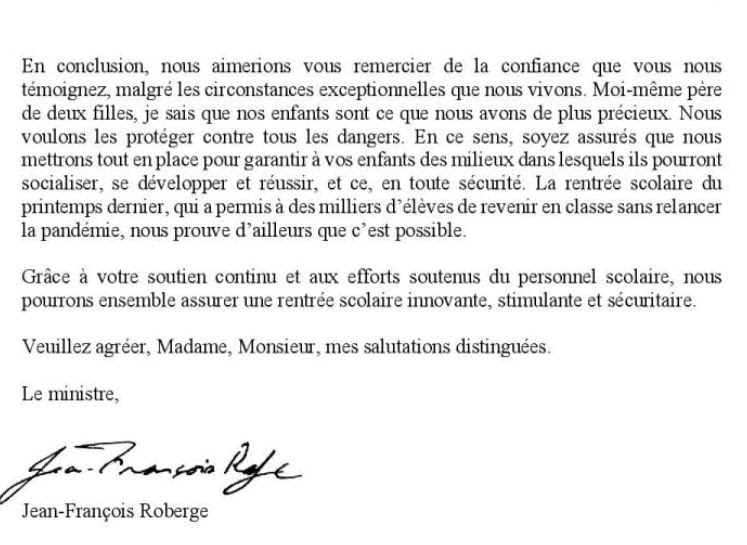 ---
---
---
---
---